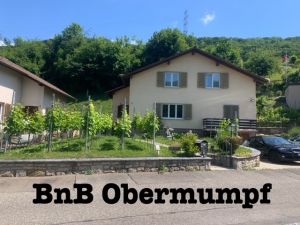 Bnb Obermumpf, "Simply the best Bed and Breakfast near Basel and Zurich"
Bed and Breakfast in Canton Aargau near Stein
Close to Basel and Zurich, our bed and breakfast is located in the northwest of Canton Aargau in Switzerland. Surrounded by a vineyard and large garden our home was built in the 1950`s and since then renovated twice to modernize the windows, electricity, heating, and interior. This charming rustic home is within 5 minutes to the Autobahn with easy access to directions either Basel or Zurich. A local bus and nearby train station in Mumpf
Our central location is ideal for trips to Basel or Zurich, the Black Forest, hiking in the regions mountains, or to the historic town of "Bad Säckingen", home to the oldest covered wooden bridge in Europe.
Surrounded by an Organic Vineyard, BnB Obermumpf is a great place to relax, eat great food, enjoy our own wine, and have a good nights sleep.
Leisure activities nearby: nature reserves, animal parks, lakes, caves, ski area, kayaking & canoeing on the River Rhein, our vineyards with wine tasting, riding, golf and sightseeing flights.