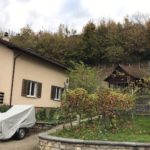 The "Clubhouse" at BnB Obermumpf
This rustic garden house offers traveling backpackers, cyclists and bikers protection from the elements with breakfast in the morning.
Sitting below my vineyard, facing  south to the garden the "Clubhouse" is a comfortable place to eat, relax  and sleep in the evening after a long days ride.  Spectacular sunsets through the valley looking towards Germany and quiet surroundings are awaiting you here.
Room enough for 4 adults, our "Clubhouse" offers the following amenities;
Breakfast Included
Electricity & Lighting
Free Wireless Internet throughout property
Cold Water
BBQ
Refrigerator
Shared Bathroom and Shower in main house
Large Patio
Free Parking